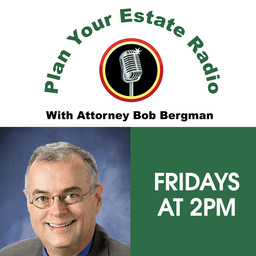 Welcome to "Plan Your Estate Radio," broadcasting every Friday afternoon from 2:00 pm to 3:00 pm at 1220AM, KDOW, in the San Francisco Bay Area. Hosted by yours truly, estate planning attorney Bob Bergman.
My show is a mix of estate planning tips and issues, stories about good and bad estate planning, and many other related topics, with occasional guests.    After each show, it is posted as a podcast at www.kdow.biz., where you can also subscribe to have future podcasts delivered to your feed.
I hope you listen to my show or at least download and listen to my podcasts when you get a chance. 
Bob Bergman, Estate Planning Attorney